Light as a feather, profoundly relaxed and happy
At the hotel with sauna, Tirolo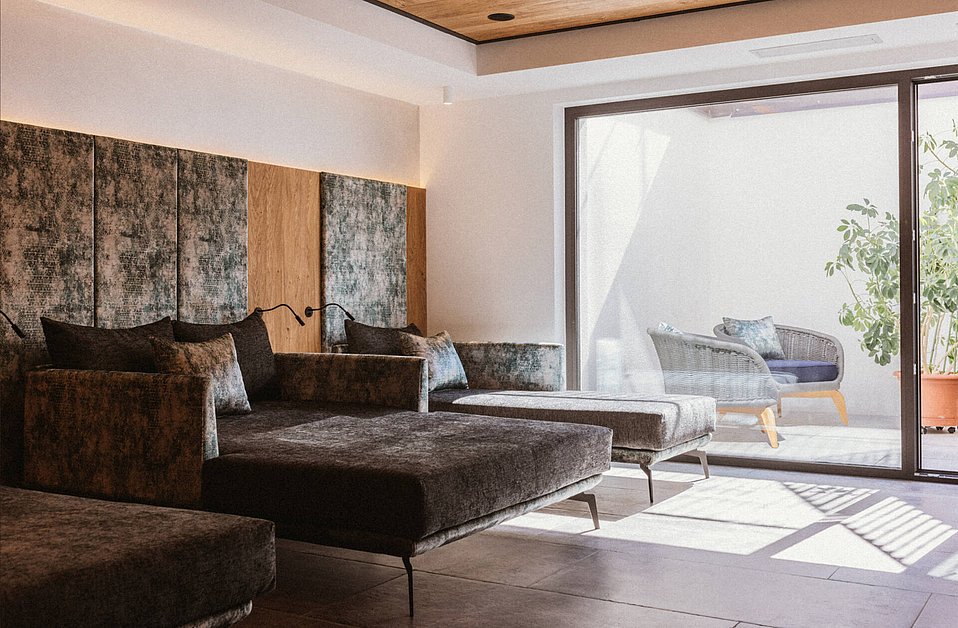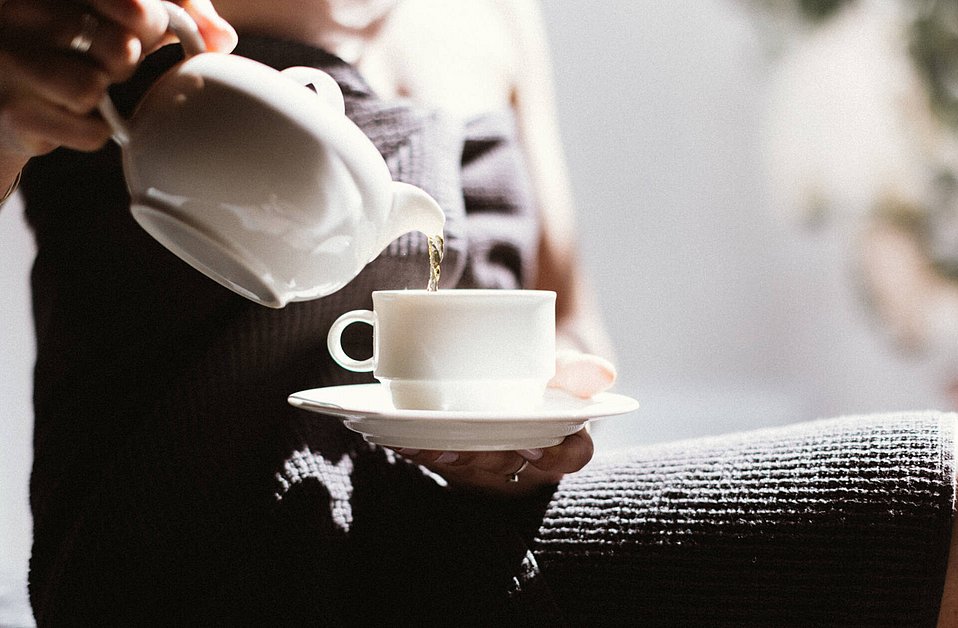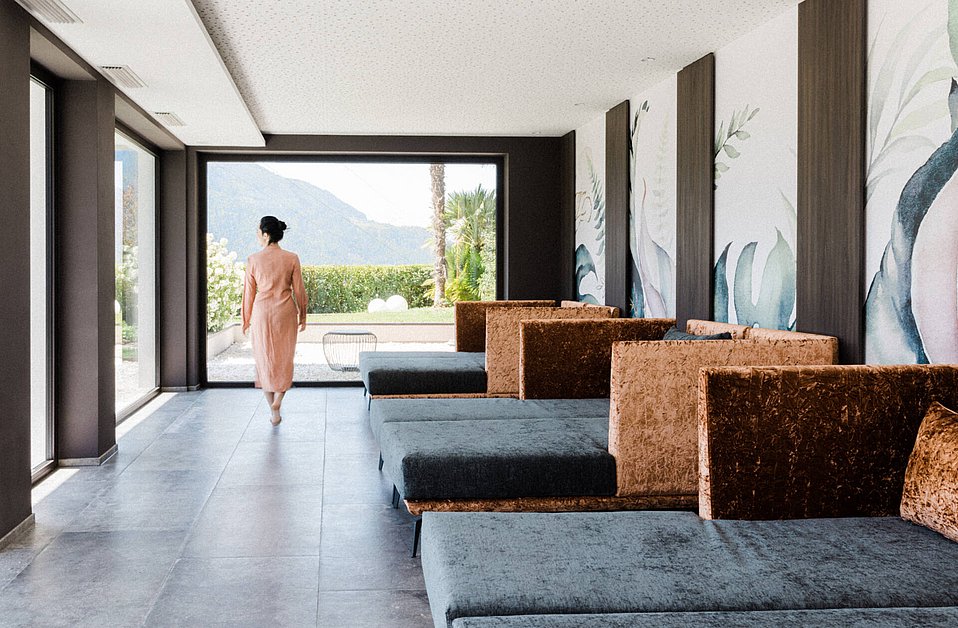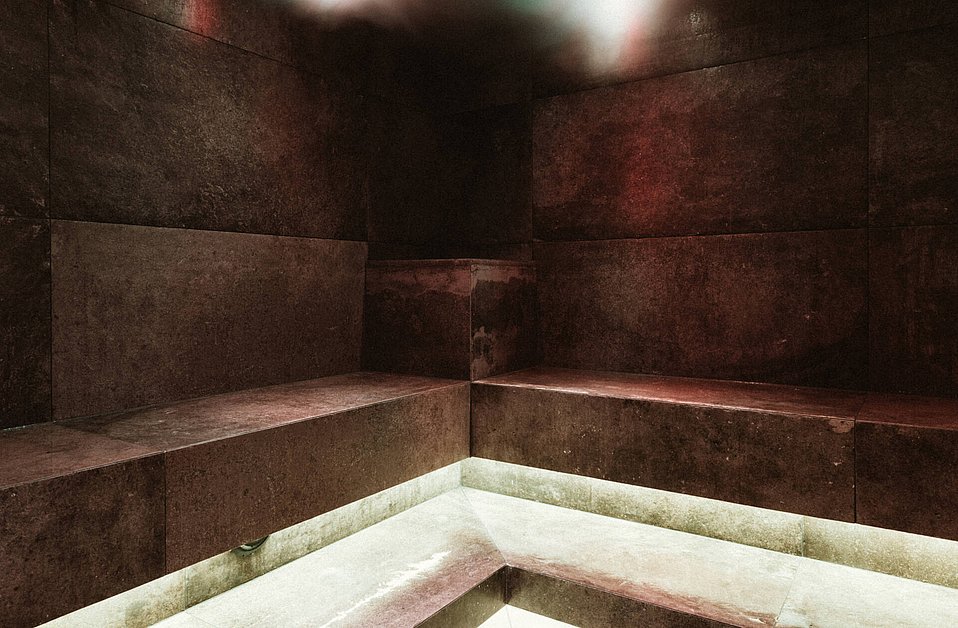 "It's so cosy, like being on cloud nine!", says Adam.
"You're so right!" agrees Eve and snuggles up on one of the soft loungers in the relaxation room. It's quite divine to feel that nothing else is of importance but the present moment. The moment, when you completely focus on your own breath while absorbing the silence and letting it unfold. Here you can relax after a sauna or a hike. Browse your favourite book or let your eyes wander on the panorama. Enjoy pure relaxation at the hotel with sauna, Tirolo.
send your request
You want to enjoy happiness and find serenity?
Not without reason has the steam bath been part of the bathing traditions of many cultures for centuries. It is not only a place of tranquillity, but also has a releasing and soothing effect. Wholesome warmth and humidity cleanse the skin, relieve stress, ease tension and clear the respiratory tract. Treat yourself to peace, treat yourself to a hiatus in Tirolo.
Relaxing in the sauna is not only a good idea when the autumn wind wafts coldly around the tip of your nose. It is also the perfect conclusion to an active day in Merano and surroundings or the ideal way to simply clear your head. A sauna session helps to stimulate your cardiovascular system, strengthen your immune system and make you feel balanced and at ease.
The strength lies in rest. Especially after a sauna session or two, the body needs a little rest. At the Paradies you can find areas to de-stress and recharge your batteries either indoors in the relaxation room or outdoors in the garden of the hotel in Merano and environs. It's cosy all around, so it's up to you (or the weather) to decide where you would most like to devote yourself to sweet idleness.
For our strongmen and power women, we have a gym with modern equipment for endurance or weight training. This is where you can satisfy your craving for exercise before breakfast or work off any leftover energy after your outdoor adventures.
dive into the pool
Spa hotel above Merano
Have you worked out enough? Let us invite you to a refreshing swim in the heated outdoor pool or to just put your feet up in the garden of our hotel. Here, spoiled by sunshine and fresh air, you will come to rest.
Crown your eventful day in Tirolo with delicious food.
We trust our instinct. Which has been telling us for years that the best is regional. This is why we aim to share the great tastes and the aromas of South Tyrol with you. Our plates are created with local ingredients from the area around Tirolo, delicacies from the Val Venosta valley as well as genuine South Tyrolean specialities. The fine herbs and edible flowers from our own garden add that little something special. The seasonal harvest determines the selection of our dishes while we devote ourselves to creative handicrafts. This is how we surprise you every day anew with authentic culinary highlights.
Seductive flavours